Requirement
The web inteface makes use of the WiFi networking capabilities of the iPhone/iPod and iPAd to view, edit, insert and backup the recipes with a desktop computer.
All the recipes are stored in the device.
Before you can use the web interface, you will have to connect both your mobile device, and the computer, to the same WiFi network.
You can use the PC with the web browser like Mozilla Firefox, Safari, Chrome, Internet Explorer 7-8 (with some limitation on the length of text inserted)
It is not required internet access.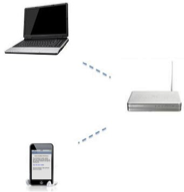 Connection
From the main screen of the App tap the icon
The App will show a page like this: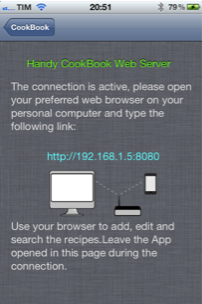 Leave this page opened during the connection.
Go to on your PC and open you preferred browser.
Type the link in the browser exactly as you can see in the iPhone page.




Troubleshooting

The iPhone and the your computer must share the same access point. They need to be on the same sub-net.

Type in the "http://" part of the URL provided for Wi-Fi Connect. Some browsers (such as Internet Explorer) may not accept the address with out the "http://". Type also :8080 at the end.

Make sure that your phone does not "go to sleep" and disconnect from the network during the connection. If your phone goes to sleep, then the Wi-Fi connection will be lost.

Try to disable the firewall on your computer.